Increasing self-reliance within the team so that every team member grows. This helps your team achieve better results.
Wouldn't it be nice if every employee in a team was coached to realize his/her personal goals? Unfortunately, you do not have the luxury to use professional coaching in every environment. If not, you can fall back on your team members. With this technique you learn what you need to coach each other as colleagues.
This video explains how Solution Focus Coaching works.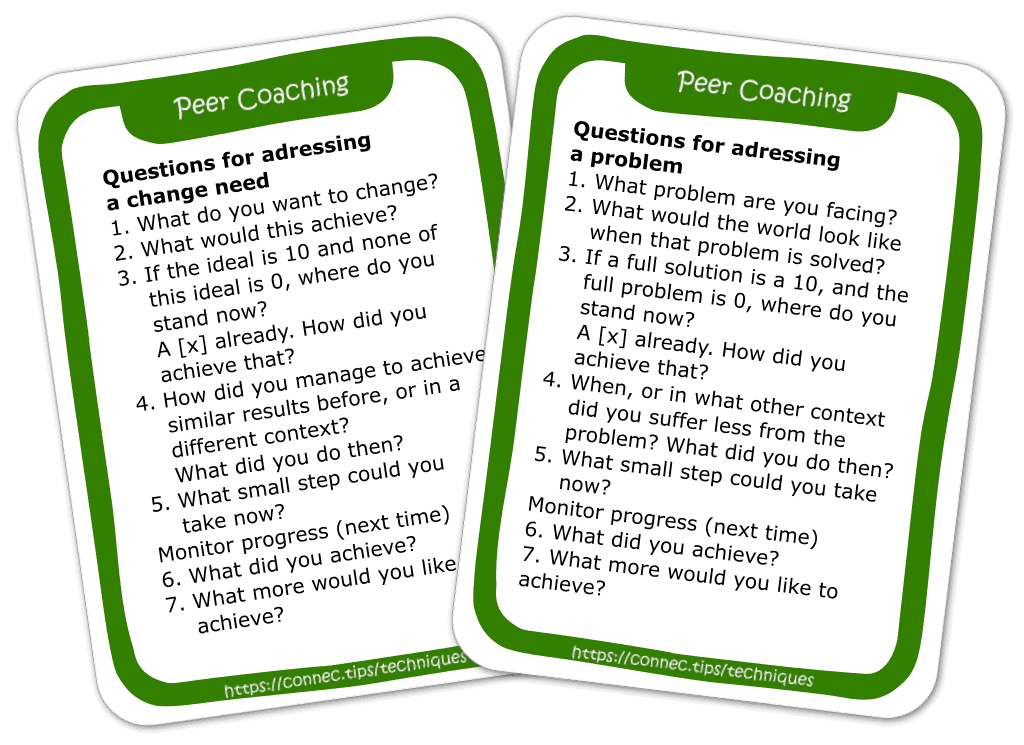 Schedule a time to practice peer coaching. Make groups of two or three people, who coach each other based on the steps mentioned on the coaching cards.
Agree on keeping the content of the conversation within the group. You can only share your own experience out there!
Devide the roles: coach, coachee and possibly an observer. The coach has a card with coach questions. The observer pays attention to the structure of the conversation, and warns the coach if he asks closed questions or appears to be giving advice. The coachee brings in a goal. Practice for ten to fifteen minutes, then switch roles so that everyone plays each role once.
As a coach, you choose a coaching card that best meets the coachee's request. You literally ask the coachee the first five questions on this card. Leave the answering entirely to the coachee. If you have a sufficient answer to a question, ask the next question on the card. If the coachee did not really answer your question yet, you can use an in-depth question like: "What more?" or "What precisely does that look like?".
Sergio van der Pluijm describes Solution Focused Coaching in his book "Coachen 3.0, deel 2: Oplossingsgerichte gespreksvoering" (NL).
You find a description of this technique in chapter 4 of our book Connective Leadership (EN, NL, DE). It is a business novel that helps you create self-organizing teams and avoid learned helplessness. 
You can learn more about and practice this technique in our Connective Team Coach Training Course.